Condolences & Tributes
We encourage you to share any memorable photos or stories about Vilma. All tributes placed on and purchased through this memorial website will remain on in perpetuity for future generations.
Caleb Shertzer and Kish Bank
sent flowers to the family of Vilma Mary (Ivicic) Anspauch.
Send Flowers
My sincerest condolences on this loss of this beautiful woman. Always had a smile and was loved by many.
Gloria J Horner
- Friday November 02, 2018 via Condolence Message
I'd like to express my sincere condolences to all for the loss of your loved one. I'll always remember Vilma as a beautiful and true soul.
Wanda Alterio
- Friday November 02, 2018 via Condolence Message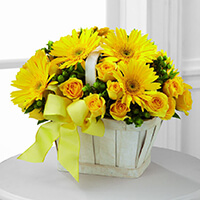 Our condolences for your loss. Thinking of your family in this difficult time.
Donna and Sandy, I am so sorry to here of your mother's passing, she was a special lady and will be deeply missed. It was always great seeing you while visiting her at Centre Crest. Know that you will always have an angel watching over you.
Karen Ripka Davis
- Wednesday October 31, 2018 via Condolence Message